Overview
The My Profile screen displays summary info about your recent activity and your devices. To access the My Profile screen, hover over the Account menu in the upper-right corner and select your name.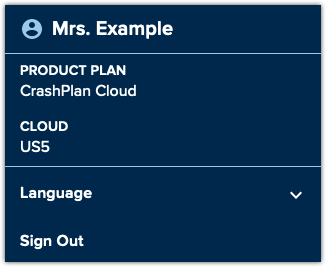 For a description of other parts of this menu, see Account menu.
My profile
To view your user profile, sign in to the CrashPlan console. From the Account menu, select your name. The action menu contains commands to edit your profile.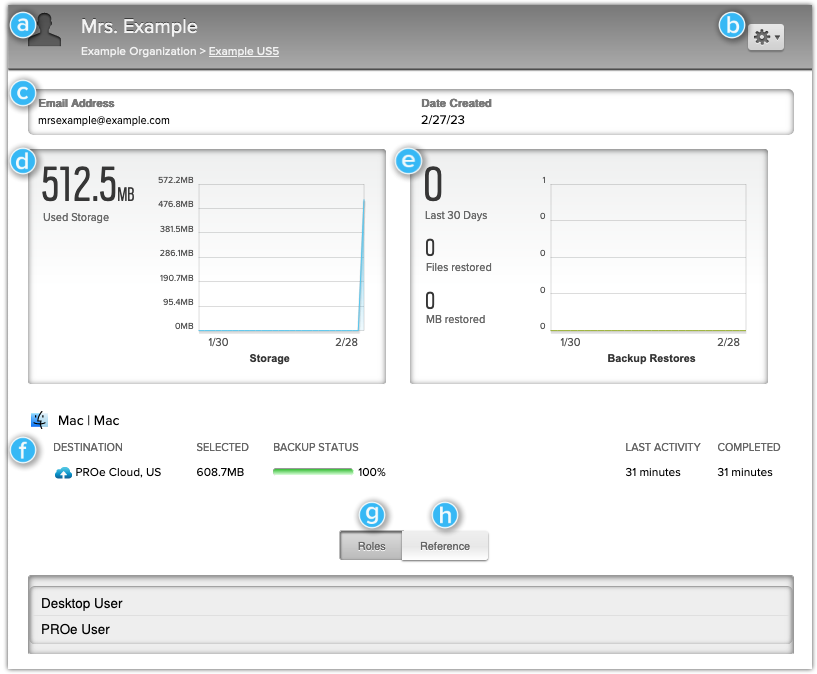 Item
Description
a
–
Your first name, last name, and the organization to which you belong.
b
Action menu
Displays actions you can perform. You can edit your profile and view deactivated devices.
c
General info
Summary of your account information.
d
Used Storage
Size of your archives.
e
Backup Restores
Number of restore sessions and the amount of data restored.
f
Device Name
List of devices associated with your account.
g
Roles
Displays roles assigned to you.
h
Reference
Displays your External Reference and Notes fields.

Action menu
From the My Profile action menu you can:
Name
Description
Edit

Edit your user account information:

First and Last Name
Email Address
Username
Password
Backup Quota
Roles*
Reference

Show Deactivated Devices*
View devices you've deactivated.
Hide Deactivated Devices*
Hide devices you've deactivated from the devices list.
View Archives*
Opens the Archive List view, which displays information about the archives associated with your account.
Reset Password*
Sends you an email containing a link to reset your password.
* Administrators only

Edit profile
To edit profile, select the action menu , and choose Edit.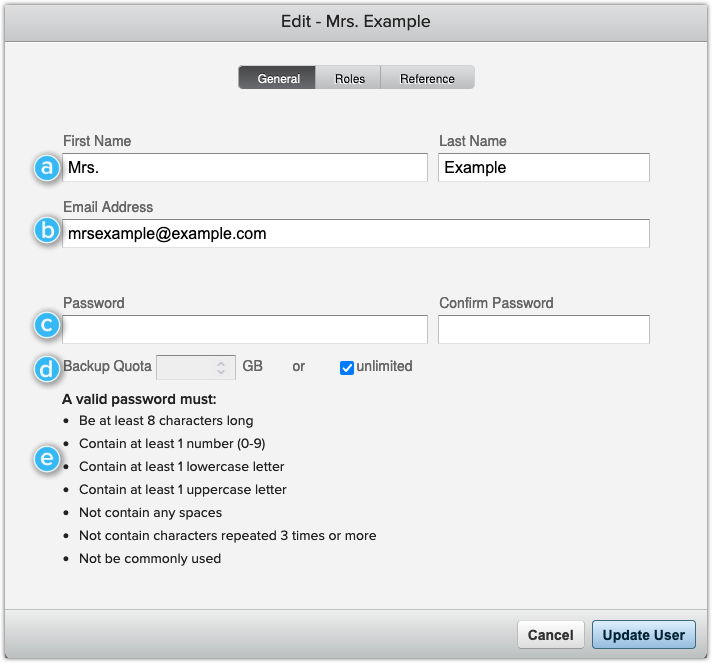 Item
Description
a
First and Last Name1
Your first and last name.
b
Email Address1
CrashPlan email address.
c
Password1
New password. Re-enter password to confirm.

Passwords must be at least 8 characters. For stronger security, use 16 characters or more.
Passwords must have at least one uppercase letter, one lowercase letter, and one number. Special characters and symbols are also allowed.
Passwords can't contain spaces or 3 or more repeating letters, numbers, or characters.
Passwords shouldn't contain common words or phrases that are easily guessed (like "password" or "letmein").
Never reuse passwords. Don't use a password for CrashPlan that you use for any other online account.

d
Backup Quota*

Limit of data in GB that you can back up.

Select Unlimited to have no restriction.

e
Password criteria

A new password must meet these requirements.
1Changing this field may require you to sign in to the CrashPlan console again.
* Administrators only
Edit roles
Available to administrators only.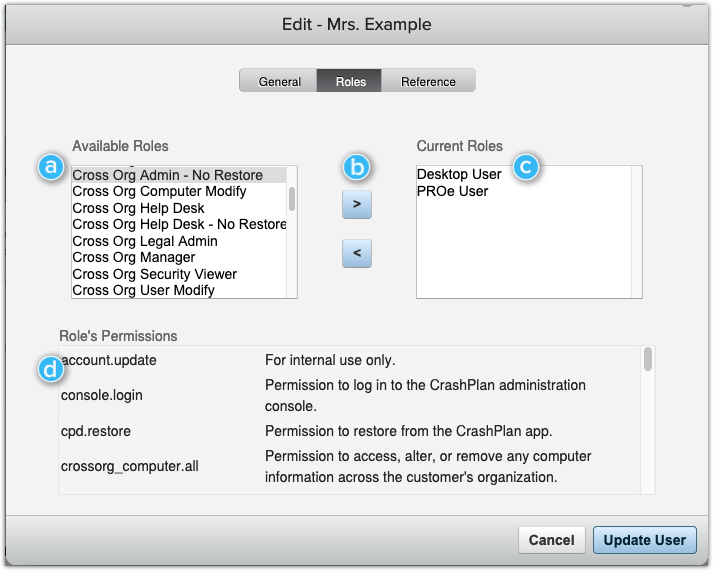 Item
Description
a
Available Roles
Roles you can assign.
b
> <
Assign or remove role from list.
c
Current Roles
Roles assigned to you.
d
Currently Assigned Permissions
Description of permissions associated with the role.

Reference
Available to administrators only.