Overview
To help protect your data from loss, CrashPlan automatically collects and stores every version of every file you have selected for backup across all your computers. After you've started backing up your files with the CrashPlan app, you may want to see which files have been backed up. To view your backed-up files, follow the steps below.
Steps
As soon as a file is backed up, it's ready to be downloaded. To view your backed-up files:
Open and sign in to the CrashPlan app.
Click Restore Files.

(Applies only if you have multiple devices) From the menu, select the device that originally backed up the files you want to restore.

If you back up to multiple destinations, select the destination from Restore files from.
The backup set list appears after Restore files from if you have multiple backup sets that use the same destination. Select the backup set that contains the files you want.

Review the list of backed-up files. Click the folder name to see its contents.
When was this file or folder last backed up?
To see when a file or folder was last backed up,
view its history
, not its Date Modified timestamp. From
Home
or
Details
, click
Restore Files
or
Get Files
. Then, mouse over a file and click the versions icon (
) to see all versions backed up for that file.
Folder versus file changes
Because folders typically do not change as often as files do, the Date Modified column of a folder tends to stay the same. A folder's Date Modified does not show changes to the individual files within it. To see the last time a file was changed, click the folder to see the Date Modified column for the files within that folder.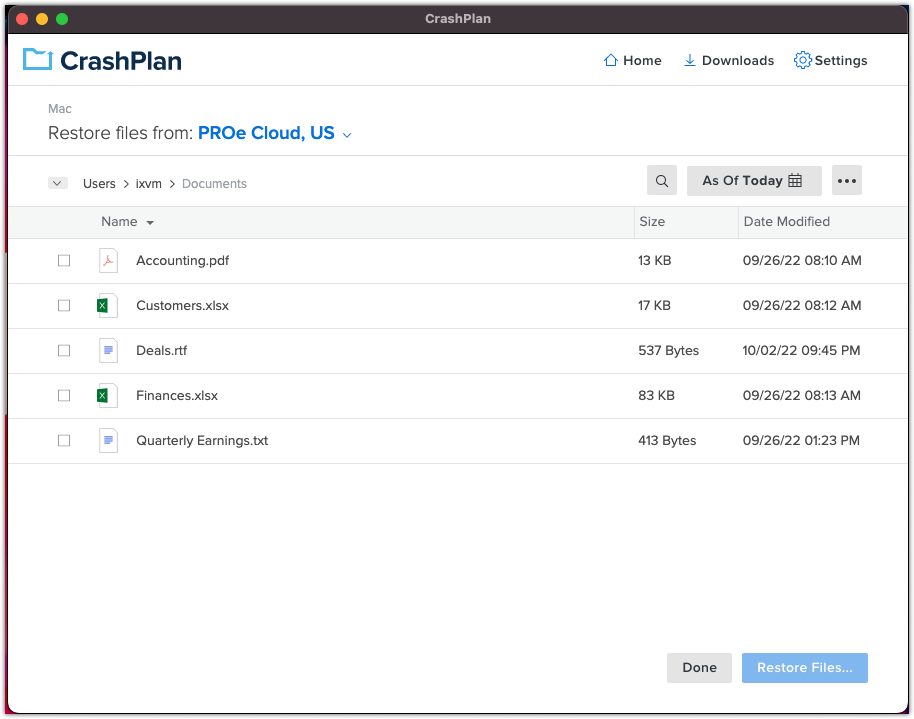 What if some of my files don't appear in the list of backed-up files?
Restore files
Checking to make sure you've included all of your important files in your backup selection is a great idea. It's also the perfect time to test restoring a few files just to be sure you'll know how to retrieve your files when you really need them.
See Restore files from the CrashPlan app for CrashPlan for step-by-step instructions.