Overview
The CrashPlan app's default backup file selection (your user directory) contains the default location of photo libraries for several applications. If you are using the CrashPlan app's default settings, and you have not changed the default location of your photo libraries, then your photos from these libraries are already backing up.
However, there are several ways to improve the efficiency of your photo library backups. This article contains directions, tips, and considerations for backing up and restoring photo libraries using the CrashPlan app.
Non-CrashPlan products
​Information about products from other manufacturers is intended as a resource to help you get the most out of CrashPlan products. However, our Customer Champions cannot provide direct assistance for these products. For assistance with products not developed by CrashPlan, contact the product's manufacturer.


Considerations
Time required to back up: Photo libraries can be quite large (it is not uncommon for libraries to exceed 30 GB). On average, you can expect your CrashPlan cloud backup to progress by at least 10 GB of information per day, as long as your computer is powered on and not in standby mode. For more information, see our special considerations on speed of initial and ongoing backups for photographers.
Real-time file watching: Information in your photo libraries may change frequently as you edit and organize your photos. The CrashPlan app continuously monitors these changes in real-time. New photos and changes are queued for backup like all other files.
Back up and restore photo libraries: Photo applications rely on libraries to store metadata about your photos, such as where they are located, how they are organized, and edits you have made to them. If you back up or restore your individual photo files, without the library containing this metadata, this information is lost. Ensure that you back up and restore the whole photo library to keep this important metadata.
File drawer analogy
Think of your library like a big file drawer containing your photos. Each photo is clipped to a folder, and in each folder, there are notes about the photo, such as, "this photo was taken on June 22nd; you want to see it in black and white; crop an inch off the side."
Each time you view photos, your notes are applied to the photo you are viewing, but the original photo is left unchanged. This is also called non-linear editing.
Managed vs. referenced libraries on Mac
It's helpful to understand how your setting for importing photos impacts your backup. The importing setting determines if your photo application copies photo files into the library or keeps them in their original location.
To view or edit the Managed or Referenced mode setting on macOS:
Open Photos.
Photos > Preferences.
Under General, locate Importing.
A checked checkbox for Copy items to the Photos library indicates a managed library. An unchecked checkbox indicates a referenced library.
The mode you use should be based on your own personal preferences for managing your photos. There are backup considerations unique to each mode, as described below.
Managed library (default)
The Photos default mode is Managed, and is considered to be the safest and easiest way to ensure that all of your photos are protected.
In Managed mode (checked), all of your photos, whether you import them from a phone or camera, or from a folder on your computer or external hard drive, are copied to your photo library. This means if you import a photo into Photos from a folder location, like an external drive, then you have two copies of the photo (one in the original location and one in your photo library).
If you import photos from a folder location, you may choose to back up the original location (in addition to your photo library). Doing so won't increase the size of your backup archive, or the amount that you need to upload to your backup destinations, because CrashPlan app detects the files are the same during the de-duplication process.
However, if you back up hundreds or thousands of photos in their original location (in addition to backing them up in your photo library), it will take CrashPlan app longer to scan and analyze your file selection, and it could increase the memory CrashPlan app needs to monitor your file selection.
Backup file selection recommendations:
Include the photo library folder.
Exclude your library's

Previews

and

Thumbnails

subfolders.
Consider excluding the original file locations of any photos imported into Photos from a folder location.
Referenced library
In Referenced mode (unchecked), photos are stored exclusively outside of your Photos library. For example, you could store your photos on multiple external hard drives, but still manage and edit them with Photos. However, if the file location or name changes, Photos will not be able to locate the photo. In this mode, you are responsible for managing your photos.
Backup file selection recommendations
Include every location of your photos on your file system.
Include your photo library folder to ensure that your events and edits to your photos are backed up.
Exclude your library's

Previews

and

Thumbnails

subfolders.
Back up photo library
The name of your photo library varies based on what photo application you are using. You can include this entire folder in your backup file selection. However, there are two folders contained within the folder that are not advantageous to back up because they can actually decrease the efficiency of your backup: Previews and Thumbnails.
Many photo applications generate preview and thumbnail files so that you can quickly browse your photos. However, since these files can be generated "on the fly" from the master photos, there's no advantage to backing them up.
To ensure you are backing up only the essential items within your photo library:
Open the CrashPlan app.
Click Manage Files to open your backup file selection.
Select your photo library folder.
macOS default path: Macintosh HD > Users > [Your User] > Pictures. The file in the CrashPlan app appears as Photos Library.photoslibrary.
Windows default path: C: > Users > [Your User] > Pictures.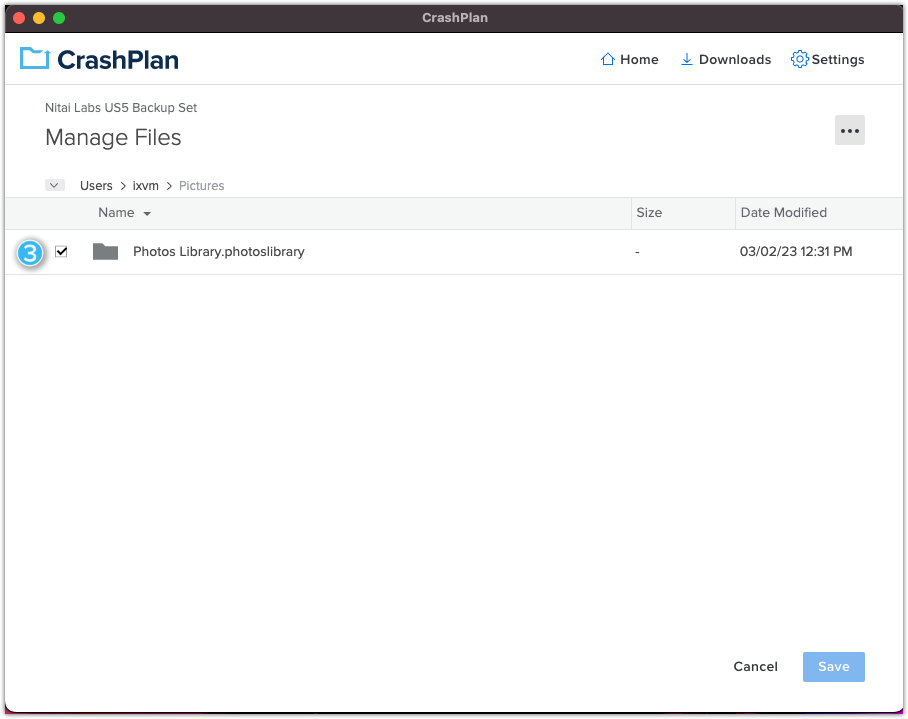 Click the photo library folder to expand its contents.
(Recommended) Deselect the Previews folder.
(Recommended) Deselect the Thumbnails folder.
Click Save to confirm your updates.
Remove previews and thumbnails from backup immediately
The CrashPlan app automatically prunes deselected folder locations from your backup archive the next time archive maintenance occurs. If you would like changes to take effect sooner, you can manually trigger a file verification scan by
navigating to the Backup Sets settings menu
and selecting
Scan for file changes
.
Restore photo library
To restore your photo library:
Open the CrashPlan app.
Click Restore Files to open your backed-up files.
If you back up to multiple destinations, select the destination from Restore files from.
For some cloud destinations, the backup set list appears after Restore files from if you have multiple backup sets that use the same destination. Select the backup set that contains the files you want.
(Optional) If you want to restore an earlier version of your files, click As of Today to select a previous date from a calendar.
Select your photo library folder.
macOS default path: Macintosh HD > Users > [Your User] > Pictures. The file in the CrashPlan app appears as Photos Library.photoslibrary.
Windows default path: C: > Users > [Your User] > Pictures.

Click Restore Files.
Restore Files Options opens.
Verify that Save selected files to is set to Original Location. You can also adjust file naming guidelines and permissions.
Click Go.
Library begins download and appears in Download Activity. Choose Show folder to access restored files once downloading is complete.
If the original location is the default location of the library, once the restore is completed, open your photo library to view your photos. Your photos should look the same as they did previously.
Restore the original unedited photos
If you only need your photos and not the organization or edits you made, the original unedited copies can be restored from the Masters folder on your Mac. These files are cataloged in a way that only Photos understands.
Troubleshooting
If you find the library is corrupt after attempting a restore, try restoring an instance of that library from a previous date. the CrashPlan app may have been unable to finish the most recent backup of this library.
On Mac, for additional troubleshooting, see Mac support on how to use built-in tools to fix libraries. If you are consistently having issues with your library, seek assistance from an Apple Authorized Service Provider or AppleCare.
On Windows, try troubleshooting common issues with the Photos App.