Overview
This reference guide describes an organization's backup reporting settings for warnings and alerts that your users receive about their backup status.
Access device backup reporting settings
To view the general device backup settings: Choose Administration > Environment > Organizations. When the Active tab opens, click the organization name. (You may need to expand the parent organization.) Scroll down to Device Backup Defaults and click the Reporting tab.
To change these default settings for the organization: From the action menu, choose Device Backup Defaults, then click the Reporting tab.
To customize the backup status report email and backup alert email, see Customize email templates (CrashPlan).
Device backup reporting settings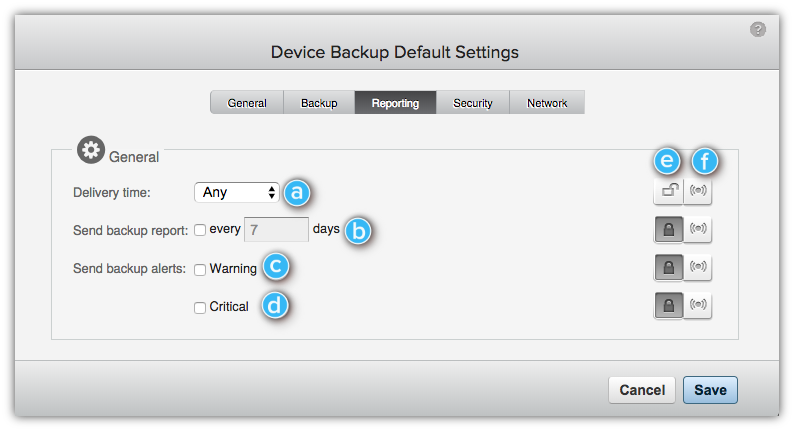 Item
Description
a
Delivery time
Indicates the part of the day when reports are delivered to users.
b
Send backup report every
Specifies how often to send the backup status report to users.
c
Send backup alerts
Indicates whether users receive warning alerts.
d
Send backup alerts
Indicates whether users receive critical alerts.
e
Lock

Locks this setting to prevent users from changing it in their personal settings.

f
Push
Applies these settings to existing users in addition to new users.