Overview
The User Backup report provides you with the visibility to address common problems and answer common questions about users in your CrashPlan environment. To analyze the data in-depth, export the report results as a CSV file and use the data analysis tool of your choice.
User Backup report
To access the User Backup report:
Select Administration > Status > Reporting.
Select User Backup.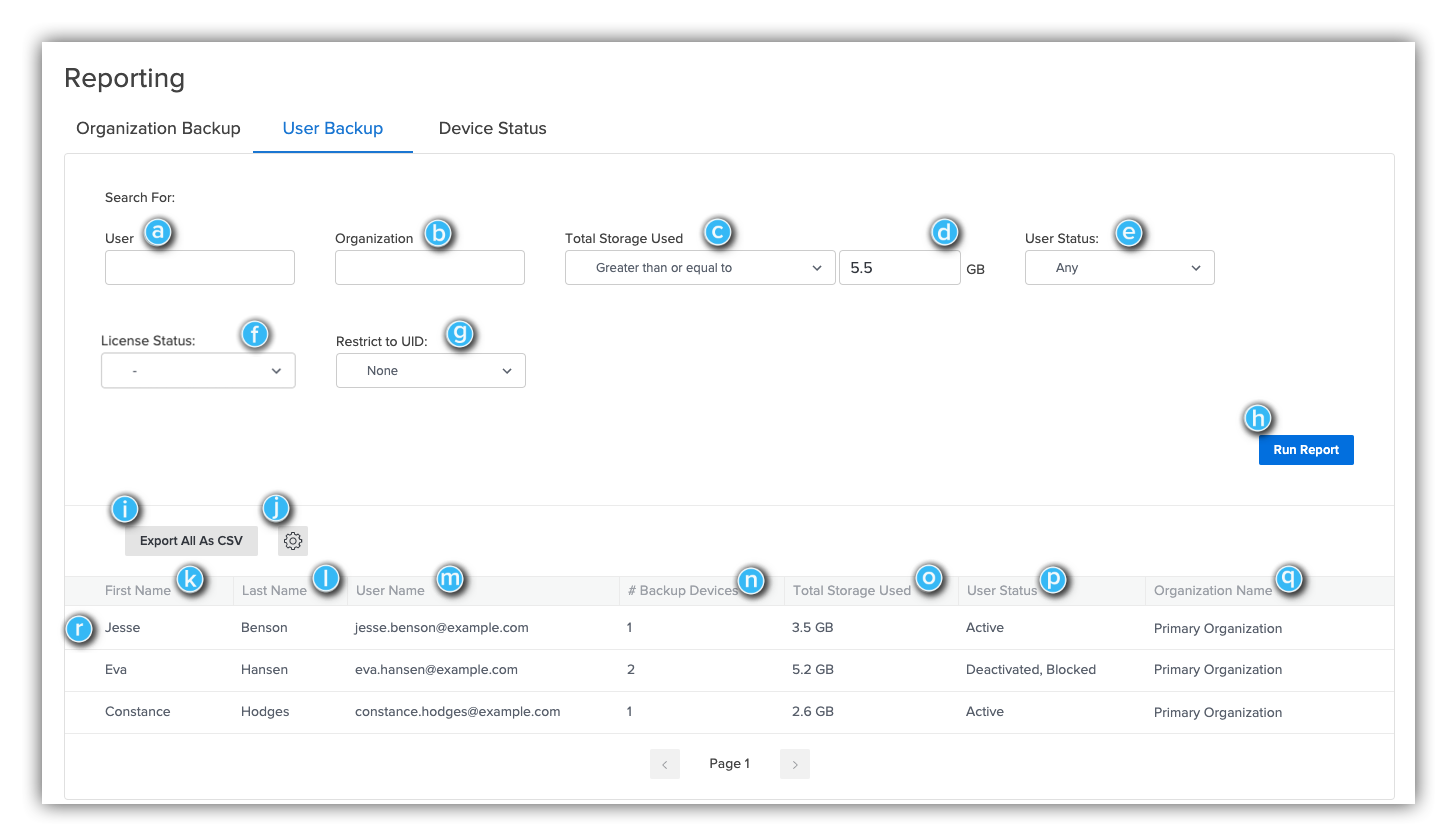 Item
Description
a
User
Searches on username, email address, first name, last name, or user external reference.
Searches are case-sensitive.
b
Organization
Searches on organization name or organization external reference.
Searches are case-sensitive.
c
Total Storage Used

Filters by total storage used:

Greater than or equal to
Less than or equal to

d
GB
Enter a number of gigabytes. This value is used with the selection of Total Storage Used to filter the results by storage space used.
e
User Status

Filters by user status:

f
License Status

Filter by license status:

g
Restrict to UID

Filters by the identification number of an organization or user.

h
Run Report

Submits the request and generates the report.

Results are limited to the first 1,000 returned. Refine your search to narrow your search results, or use the CrashPlan API UserBackupReport resource to return more than 1,000 results.

i
Export All As CSV

Downloads a CSV file of the search results. The file contains all fields provided by the CrashPlan API UserBackupReport resource, not just the fields selected for display on this page.

j
Table Configuration Options

Displays the Table Configuration Options dialog, which allows you to choose which fields appear in the results.

The fields displayed by default are:

First Name
Last Name
Username
# Backup Devices
Total Storage Used
User Status
Organization Name

See additional output values below.

k
First Name
First name of the user.
l
Last Name
Last name of the user.
m
Username
The username of the user.
n
# Backup Devices
Number of backup devices for the user.
o
Total Storage Used
Total storage used across all the user's devices.
p
User Status

Current status of the user. Possible user states:

q
Organization Name
Name of the device's organization.
r
User Details
Select a row in the query results to view details for the user, including where storage is used across devices and destinations.
Additional output values available if selected from Table Configuration Options (i).
Email
Email address for sending password reset information.
# Active Backup Devices
Number of active backup devices for the user.
# Deactivated Backup Devices
Number of deactivated backup devices for the user.
Organization UID
The unique identifier of the organization.
Result as of Date
The effective date and time of the report data.
User External Reference
The reference information provided for the user.
User UID
The unique identifier of the user.