Overview
The My Profile screen displays summary info and graphical views about your recent activity. The action menu contains commands to edit your profile and view deactivated devices.
My Profile
From the Account menu in the upper-right of the CrashPlan console, click your name to view your profile.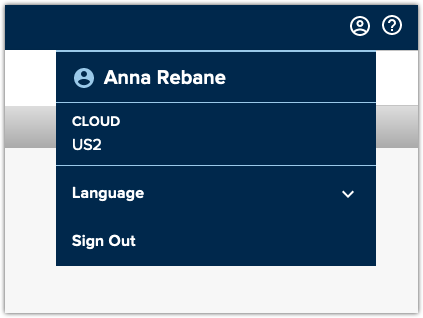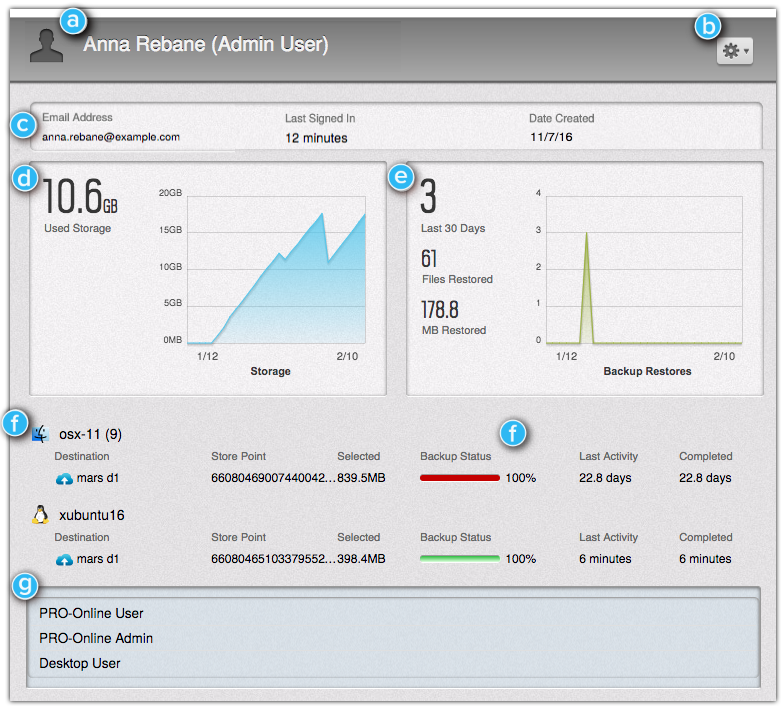 Item
Description
a
–
Your first and last name
b
Action menu
Displays actions you can perform, for example, edit your profile and view deactivated devices.
c
General Info
Summary of your account and activity
d
Used Storage
Total cumulative size of your archives
e
Backup Restores

The number of restore sessions and the amount of data restored.

Select the number for Last 30 Days to view Restore History.

f
–

List of devices associated with your account.

Select device name to view Device Details.

g
–
List of user roles assigned to you
Action menu
From the My Profile action menu you can:
Name
Description
Edit

Edit your user account information:

Name
Email address
Password

Show Deactivated Devices
View devices you've deactivated
Hide Deactivated Devices
Hide devices you've deactivated from the devices list
Deactivate
Deprecated - no effect
Block

Deprecated - no effect

Remove Admin
Deprecated - no effect
Reset Password
Sends you an email containing a link to reset your password
Edit profile
From the My Profile action menu, select Edit to update: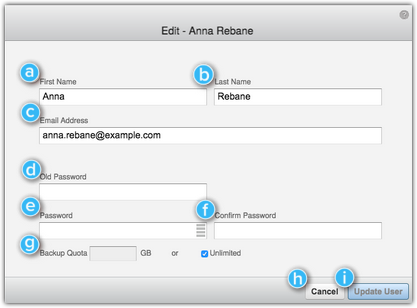 Item
Description
a
First Name
Your first name
b
Last Name
You last name
c
Email Address
Your email address, used to log in to CrashPlan for Small Business
d
Old Password
Your current password. Required to change password.
e
Password

Enter your new password


Passwords must be at least 8 characters. For stronger security, use 16 characters or more.
Passwords must have at least one uppercase letter, one lowercase letter, and one number. Special characters and symbols are also allowed.
Passwords can't contain spaces or 3 or more repeating letters, numbers, or characters.
Passwords shouldn't contain common words or phrases that are easily guessed (like "password" or "letmein").
Never reuse passwords. Don't use a password for CrashPlan that you use for any other online account.

f
Confirm Password
Re-enter new password
g
Backup Quota

Limit in GB that you can back up.

Select Unlimited to place no restriction on how much data you can back up.

h
Cancel

Revert changes and close Edit pane.

i
Update User
Save changes and close Edit pane.