Overview
The CrashPlan console is the browser-based environment you use to view, manage, monitor, and configure your CrashPlan for Small Business environment. This tutorial describes the basics of the CrashPlan console.
Access the CrashPlan console
To access the CrashPlan console, use a supported web browser to visit the CrashPlan for Small Business Sign In page.
The CrashPlan console dashboard appears when you sign in, which displays information about backup status, users, devices and settings.


Two-factor authentication
If you see a prompt for an authentication code, and your organization has not configured
two-factor authentication
, verify that your email address is correct.
CrashPlan console access
The content and options displayed in the CrashPlan console are determined by the user role of the signed-in user. An administrator is allowed full access to configure all aspects of the CrashPlan for Small Business environment, while end users only receive access to settings related directly to their individual devices and accounts.


CrashPlan console basics
Menus and general navigation
At the top of the screen, the account menu allows you to change appearance and language settings.
The navigation menu contains links for viewing and managing the different components of your CrashPlan for Small Business environment.
Action menus display contextual actions and options.


Columns and lists
Sort columns by clicking the column title.
Column widths are adjustable, and the width settings are remembered across sessions.
To reset default column widths, double-click the heading above the columns (for example, "Active Users").
Real-time scrolling dynamically loads data as you scroll through the data set, making it easy to manage large lists.
CrashPlan console toolbar
Account menu
The Account menu provides options for viewing your account profile and customizing the CrashPlan console language.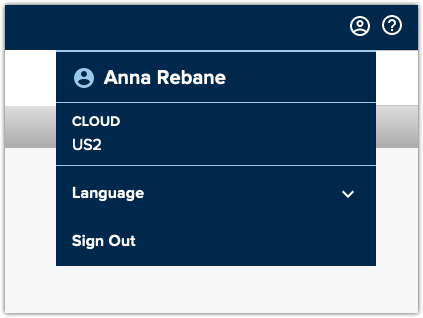 | Item | Description |
| --- | --- |
| My Profile | Click your username to see summary information about your backup, restores, and the location of your devices as well as edit your profile and view deactivated devices. |
| Cloud | Displays which CrashPlan cloud location you're backing up to. This setting cannot be changed. |
| Language | Specifies the locale the CrashPlan console displays. This sets the displayed language and date format. When you specify a locale from the toolbar, the chosen locale is set via a cookie within your current browser. View available locales. |
| Sign out | Signs the current user out of the CrashPlan console. |

Help

The Help button launches support documentation at support.crashplan.com.
Navigation menu
The navigation menu provides access to settings for all components of your CrashPlan for Small Business environment. Click any link in the table below to learn more about a specific component.

Item
Description
Search

Enter text to search for users, devices, organizations, servers, destinations, and plans in your CrashPlan for Small Business environment. You can enter a full or partial first or last name, email address, device GUID, or device name.

Matching results appear below the search text box. Click any result to view the relevant details.

Dashboard
Clicking the CrashPlan for Small Business logo displays high-level summary information about backup status, storage, and users.
Account

View and manage your subscription information.

Users
Manage users, their devices, add new users, and manage administrator roles.
Devices
View all devices and manage device details and settings.
Device Backup
Adjust default settings for device backups and push settings to devices.
Reporting
Manage reporting settings, recipients, and frequency.
App Downloads
Manage the client versions that are available for download.
Settings in the CrashPlan console
Apply settings
For settings in the CrashPlan console that impact user devices, there are two options for applying settings: save and push.
Saving a setting applies it for new devices in the future. Saving settings does not affect any existing devices.
Pushing a setting changes it on user devices, but still allows users to change the setting later.
Learn more about device defaults and applying settings.
Available locales
The CrashPlan console is available in the following languages:
| Language | Locale Name |
| --- | --- |
| Chinese Simplified | 中文 |
| Chinese Traditional | 中文 - 台灣 |
| Dutch | Nederlands |
| English (United Kingdom) | English (United Kingdom) |
| English (United States) | English (United States) |
| French | Français |
| German | Deutsch |
| Italian | Italiano |
| Japanese | 日本語 |
| Korean | 한국말 |
| Norwegian | Norsk bokmål |
| Portuguese (Brazil) | Português (Brasil) |
| Spanish (Latin America) | Español (América Latina) |
| Spanish (Spain) | Español (España) |
| Swedish | Svenska |
| Thai | ไทย |