Overview
If you attempt to start the CrashPlan app and it displays the message, "CrashPlan cannot connect to its background service", this article can help troubleshoot the issue. This error usually occurs because the CrashPlan service is not running.
CrashPlan branding changes
Due to recent organizational changes, CrashPlan has separated from Code42 Software. As a result, you may notice inconsistencies in the use of CrashPlan and Code42 branding in the product. This will be addressed in a major app release in early 2023.
Under the hood
The CrashPlan app consists of two parts:
Graphical user interface that the user interacts with
CrashPlan service that runs in the background
These two pieces communicate over a local network connection that is built into every device. When the CrashPlan app starts, the graphical user interface and the CrashPlan service attempt to connect to each other. If they can't connect, the graphical user interface displays an error message.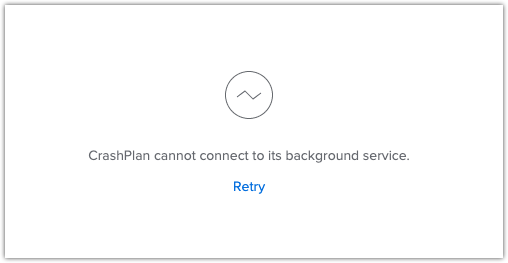 Recommended solutions (all operating systems)
The recommendations below apply to all operating systems. These are the resolutions that most often resolve the issue. If these solutions don't resolve the issue, review additional recommendations below.
Recommended solution (Windows)
If you are using a Windows device and the recommended solutions for all operating systems didn't resolve the problem, verify that the CrashPlan service is enabled.
Open the Windows Start menu.
Locate and open the Services program: Type services.msc into the Start menu search bar and click Enter.
Double-click CrashPlan service
The CrashPlan service window opens.
Ensure that the Startup Type is set to Automatic (Delayed Start).
If the Start service status button is available, click it to start the CrashPlan service.
Click Apply if you made changes to your settings, then close the window.
Recommended solution (Linux)
If your system language is not set to English when the CrashPlan app is installed, the application starts and backs up but fails to open after rebooting the device. To ensure that the CrashPlan app is able to open after rebooting:
Change the Linux system language to English.
Consult the documentation for your Linux distribution for instructions on changing the system language.
Change the Linux system language back to your language.
The CrashPlan app will open normally.
Alternative solution
Manually starting the CrashPlan service after restarting your device will allow you to open the CrashPlan app.
Starting the CrashPlan service
Using this method to start the CrashPlan service will not persist after restarting the device and will have to be reapplied after every restart.